Surrey Grown, DIY Wedding flowers for 2021
So here we are moving toward the end of 2020.
There's a chink of light at the end of the Covid-19 tunnel, but at the moment everything is still damp, dark and dripping.
I've been digging into the archives to bring you some lovely photos of buckets of cheerful flowers, so when we do emerge into the light again we can all know what flowers there will be available. We've been really busy planting over the last couple of months, so we hope there will be lots and lots of flowers available for you next year.
So here we'll take you through the year with themed DIY buckets - that's the curated mix that we put together for you here at Plantpassion, so it's really easy to make up your table decorations.
April
April is all about Spring bulbs, blossom and perennials. The Tulips, and Anemones and Scented Narcissus, The Hellebores as the stars of the show, and then the Cerinthe and Honesty and fresh foliage of Rosemary, Raspberry and Eucalyptus,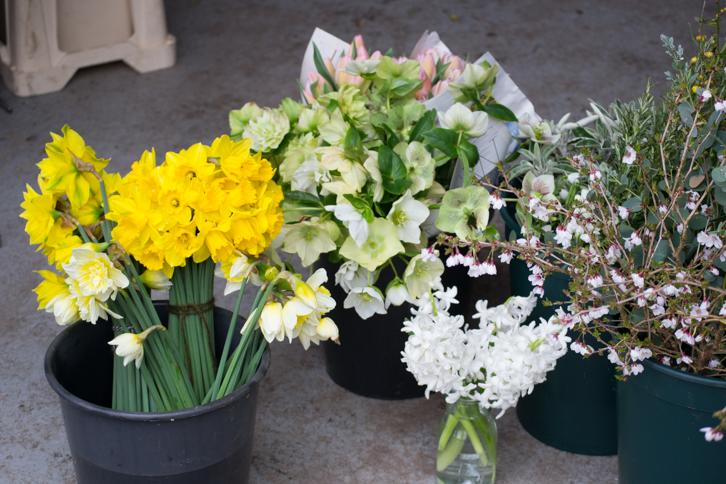 This one is from the beginning of the month - 4th April, with creamy Hellebores, Peachy Tulips, Scented Hyacinths and blossom, and colour from the Daffodils and Kerria. - Yellow Illumination is the Pantone colour of the year in 2021!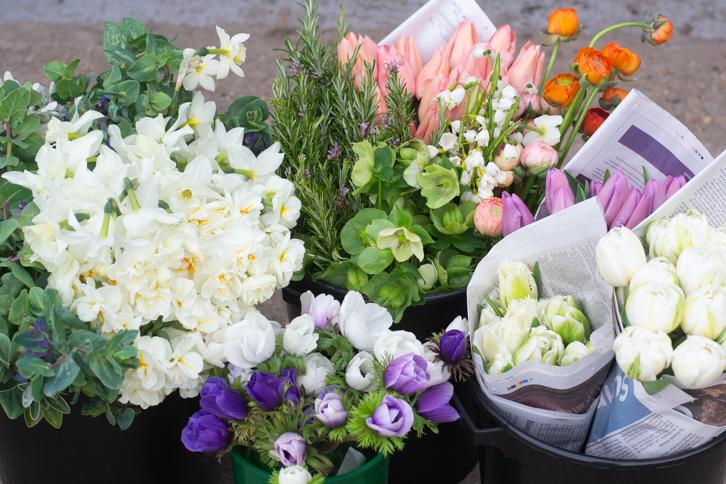 This one was part of a wedding later in April - this was the 17th of the Month. There's a wider range of Tulips, and the first of the Ranunculus were giving bursts of colour.
May
May has a lot of white and blue and purple in it, so I was really pleased to get a peach and white theme a couple of years ago. I admit I did add in a bit of cheery orange, - the Geums looked too good to leave them out.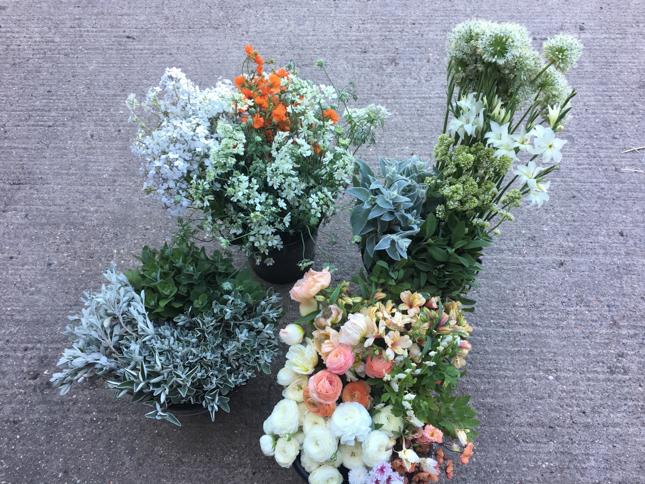 A lot of these were perennials, which we've been building up over the years. These make us more resilient to poor weather, and give us a wider range of choice in our buckets. Here on the 22nd May we've got Sweet Rocket, Laceflower, Geum, Alliums, Bridal Gladioli, Centranthus, Lambs Ear, Alstroemerias, Poppies, Ranunculus, Bleeding Heart and Aqueligia,plus Scented mint, and silvery foliage of Senicio.
June
By June we're in Summer flowers, and so many goodies available. There are often pinks and blues, and this is the Month you are most likely to get Roses in your DIY buckets. There's also likely to be scent from Sweet peas, and lots of summer froth.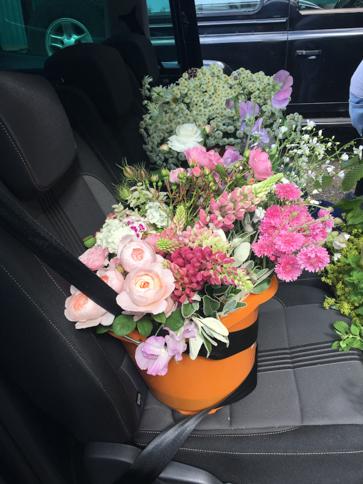 July
It's been hot in Surrey in July for the last few years. but we've flowered lots and lots of weddings in the heat with our Fresh flowers. It's just a case of getting up early to pick them in the cool.
This is the month when most colours are available, - We've done more pales and pinks - Here, the pale pinks were Larkspur, Achillea, Cynoglossum, roses and Clary sage.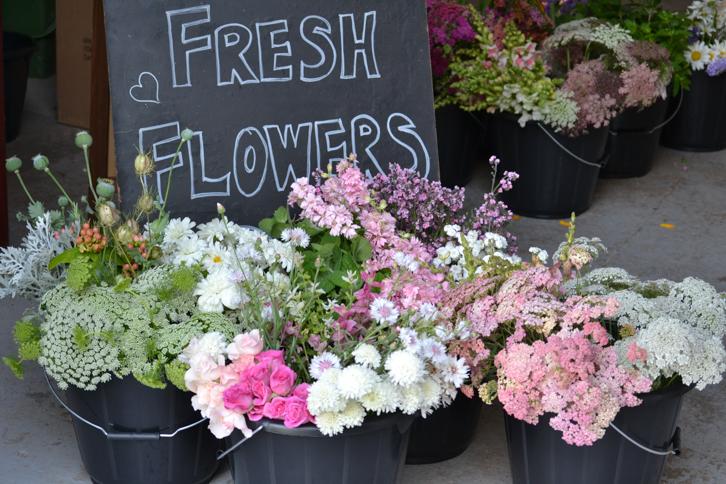 But there are also plenty of bright colours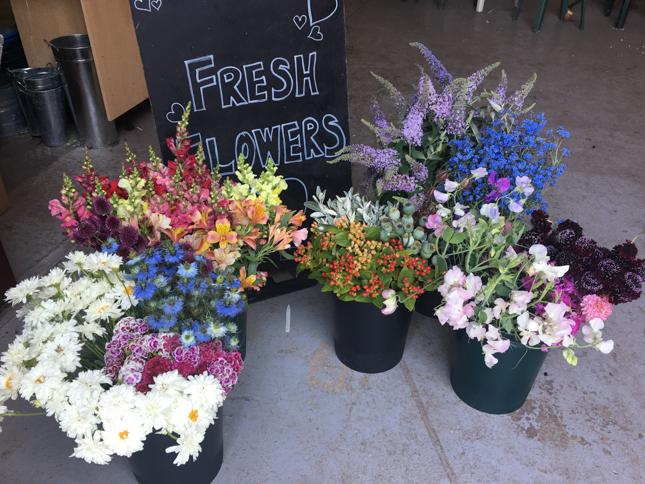 Scabious, Antirrhinum, Alstroemerias, Hypericum berries and Nigella included in here.
August
Again in August there's a whole range of colours. It's usually our busiest month, so there are lots and lots of flowers available, and whether your wedding just needs one bucket of blooms or 1000 stems we can help you.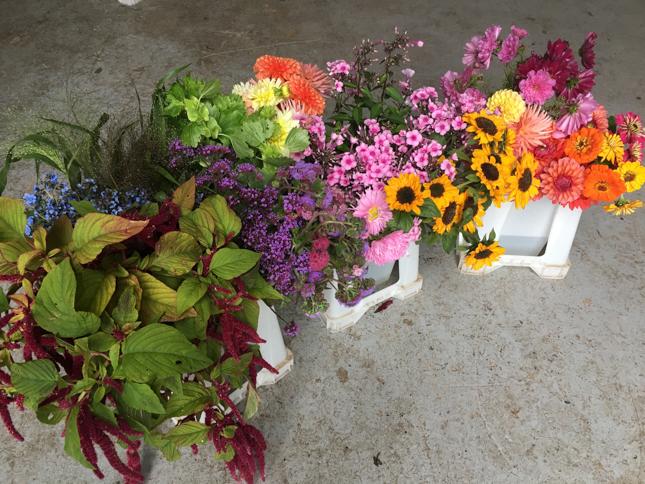 Some people really mean bright!
But we love a bit of blue and purple too!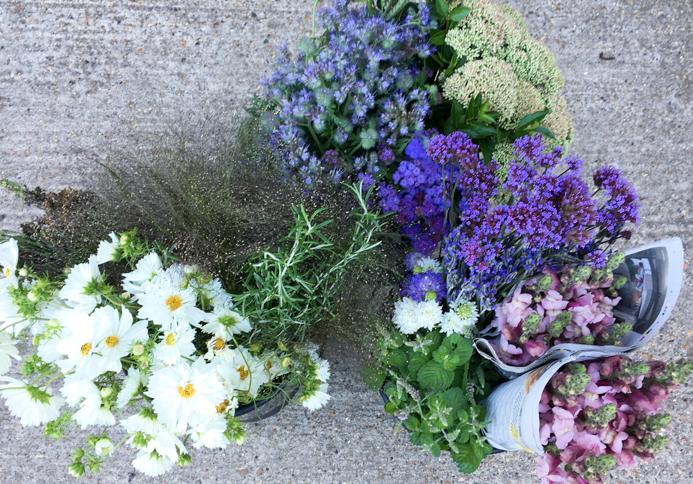 September
September flowers just have to include Dahlias. This was definitely one of my favourite colours schemes with peaches and darks.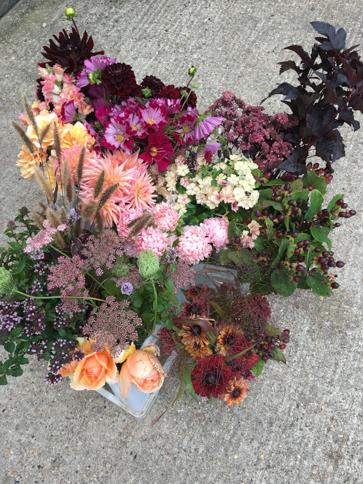 The Peach Preference Dahlias and Dark Rip city Dahlias were joined by Rudbeckias, Cosmos, Sedum, Daucus, Asters and Peachy Just Joey roses.
October
There are still flowers available in October, although in slightly smaller numbers. If you want DIY buckets in this month, do get your orders in early.
This is one of the latest weddings we've ever flowered, on the 26th October. The burnt oranges of the Heather James Chrysanthemums and the late Foxgloves were a great foil for the Dahlias, and plenty of scented Pelargonium foliage.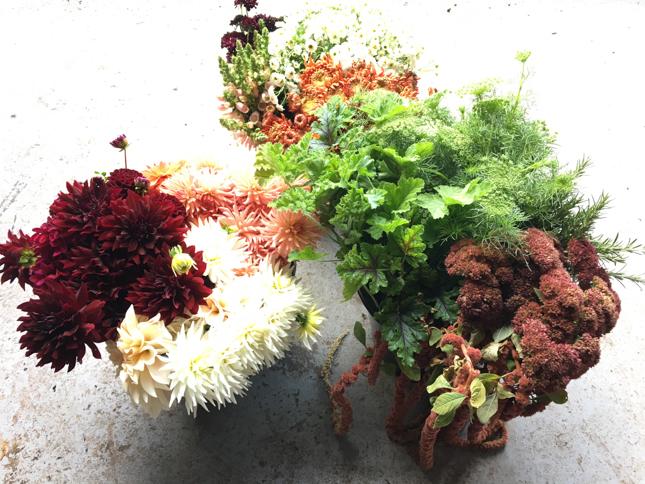 and showing that if you've got enough flowers on a field, you can even find purple and pink in October, this one was from the 23rd.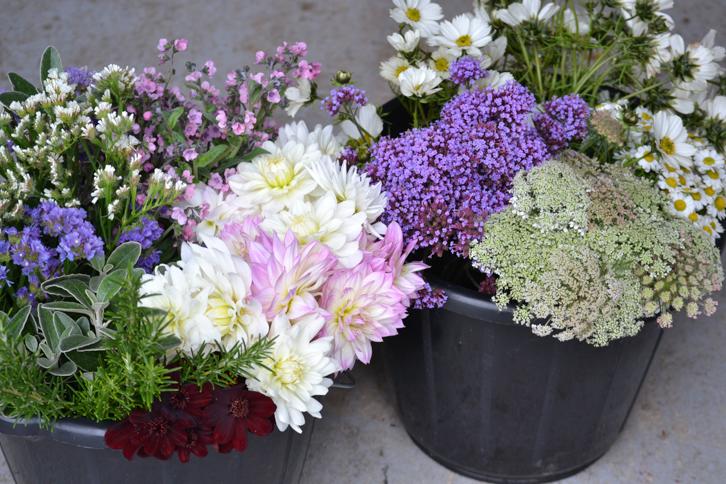 Here's hoping this has given you some inspiration for your DIY wedding flowers. Do contact me if you'd like Plantpassion to provide flowers for you in 2021, or 2022.
Information about our Open Days are available on the Website, and please let me know if you'd like more information and prices for what we can provide.
Claire@plantpassion.co.uk